GDPR is a set of new data protection laws. It has relevance to our use of contact forms at SriChinmoyCentre.org, SriChinmoyRaces.org and meditation sites. It mostly applies to European countries, but aspects of the law are considered 'best practice' and still useful for countries outside Europe.
What do I have to do?
There are two areas of each site you are responsible for that need to be looked at
Basic Principles of GDPR
Any data kept must be used fairly (we must have consent from individuals for the use). It should be used for 'proper purposes', must be relevant, must be accurate, we shouldn't keep it beyond the time it is needed, and it should be kept securely.
Individuals have the right: To be informed of how their data will be used, to have access to their data if they ask, should be able to correct inaccuracies and have it deleted if they ask, and they can object to the usage of data e.g. marketing.
Privacy Policy and footer links
Each site needs a privacy policy explaining how we use data. The policy needs to be in the language of the site. There needs to be a link from the footer of each page, and also from every contact form.
We have added a privacy policy in footer for Sri Chinmoy Centre and Sri Chinmoy Races. European country sites will need to translate this into their own language, and then create a link in the footer.
European users putting contact data from Sri Chinmoy Races into any email mailing lists need to ensure people are opting IN, and also need to create a modified privacy policy with additional information indicating how the mailing lists are stored and used.
For English language meditation sites, we have a policy here that you can link to http://vasudevaserver.org/privacy-policy-meditation-sites. Again, non-English users will need to translate to their language and add it directly to their site.
Centres are also free to create a new modified policy that suits their needs, as long as it doesn't obviously contradict the default policy (eg things like cookies, deletion of data etc)
Changing footer link – Centre
The footer link to the Privacy Policy can be changed in the domain settings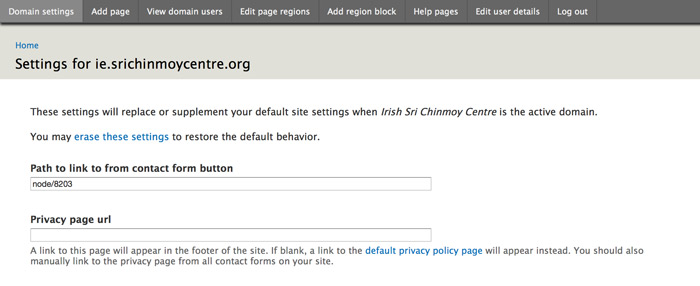 Changing footer link – Races
Choose Domain settings in the top grey tab
Choose the Footer – popular links tab
Add link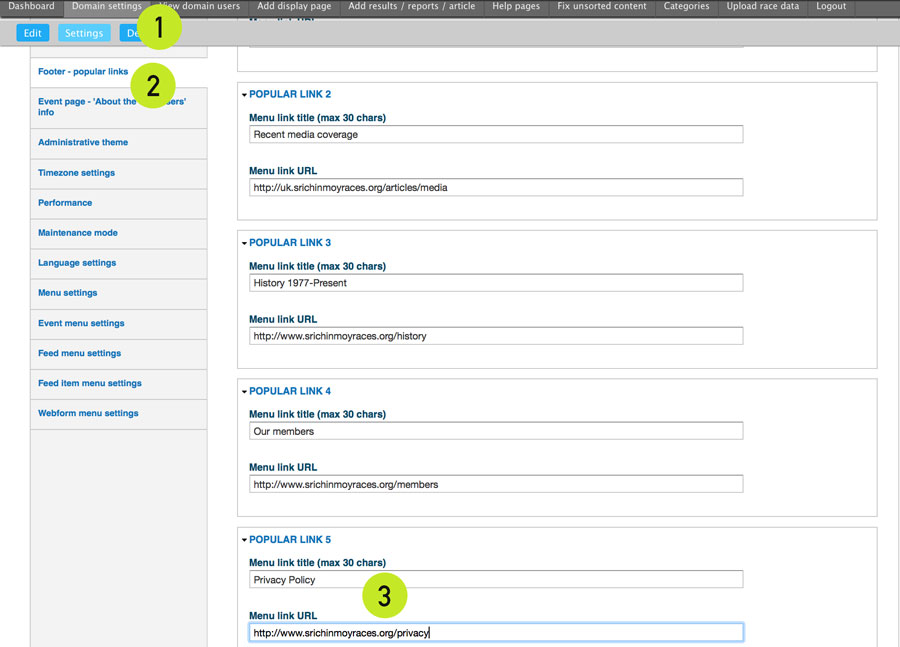 Changing footer link – Meditation sites
The link can be added in a footer widget – more on editing widgets
---
Modifying contact forms
After May 25, any entry on contact forms older than 6 months will be automatically deleted from our servers.
Each form needs to inform the visitor how their contact information will be used.
We think that for most contact form messages, a simple message with a link to the privacy policy will be enough. If you need to translate or modify your privacy policy, you should do that before modifying the form.
Sample text: Any information you send with this form will only be used to deal with your request, and to let you know of upcoming classes and events; read our privacy policy….
Examples of contact forms: Oxford, Dublin (see image below), main Centre form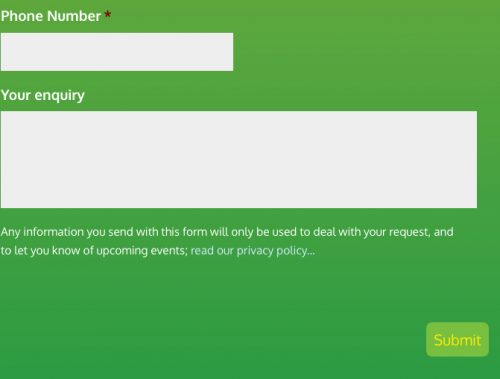 Note that the law is not yet 100% clear on this, and may be interpreted differently in different places – some countries may feel that they need to add a 'required' checkbox that the user has to tick before they can press the submit button.
Modifying contact form – Centre and Races
To edit the form, press webform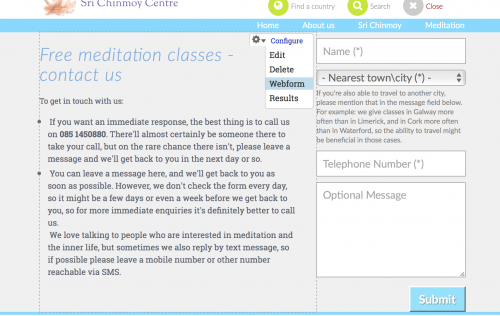 You will get a list of webform fields. Choose the very last one – in this case, 'Optional message' and press edit.

Add the text in the description field

Modifying Contact form in meditation sites
Edit Form: Go to 'Forms' and press the edit button for your contact form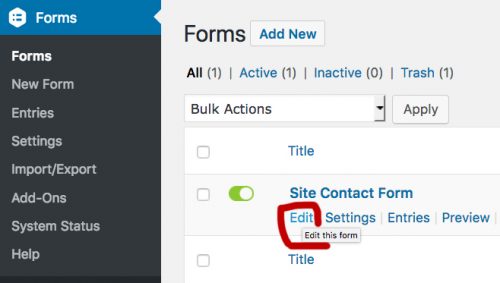 2. Select the arrow for the 'Optional Message' field to open up options for that field
3, Add text that explains usage and links to the privacy policy (you can modify the sample text below)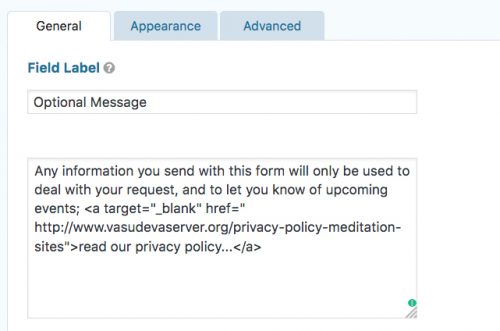 Sample text: Any information you send with this form will only be used to deal with your request, and to let you know of upcoming events; <a target="_blank" href=" http://www.vasudevaserver.org/privacy-policy-meditation-sites">read our privacy policy…</a>