Many sites use a Divi based theme (inspire, discover, australia). If you would like to switch to our new Dhyana theme, you can do that in Appearance > Themes. However we also would recommend that once you do that, you follow the checklist below. These are some basic instructions – for a full overview of the Dhyana theme, click here
Set the homepage
This can be done from the front page by selecting Customise > Homepage – page or blog. Most Divi sites have a static front page. Many sites using the Dhyana theme have a listing of posts instead, so you can change that here.
Change pages to posts
WordPress has 2 kinds of content – Pages and Posts. If you have chosen your front page to be a listing of posts, then you will probably want to change a lot of your existing Pages to Posts so they appear in this listing.
First: go to Dashboard > Settings > Permalinks and set the permalink to post name. This will ensure the url is the same regardless of whether it is a Post or Page.
Second: You can change pages to posts by editing the page itself, or you can change many pages by going to Dashboard > Pages, selecting the pages you want, and selecting Edit from the top menu, then Apply. Another screen will come up where you can change many things about those pages, including converting the Post Type to Posts.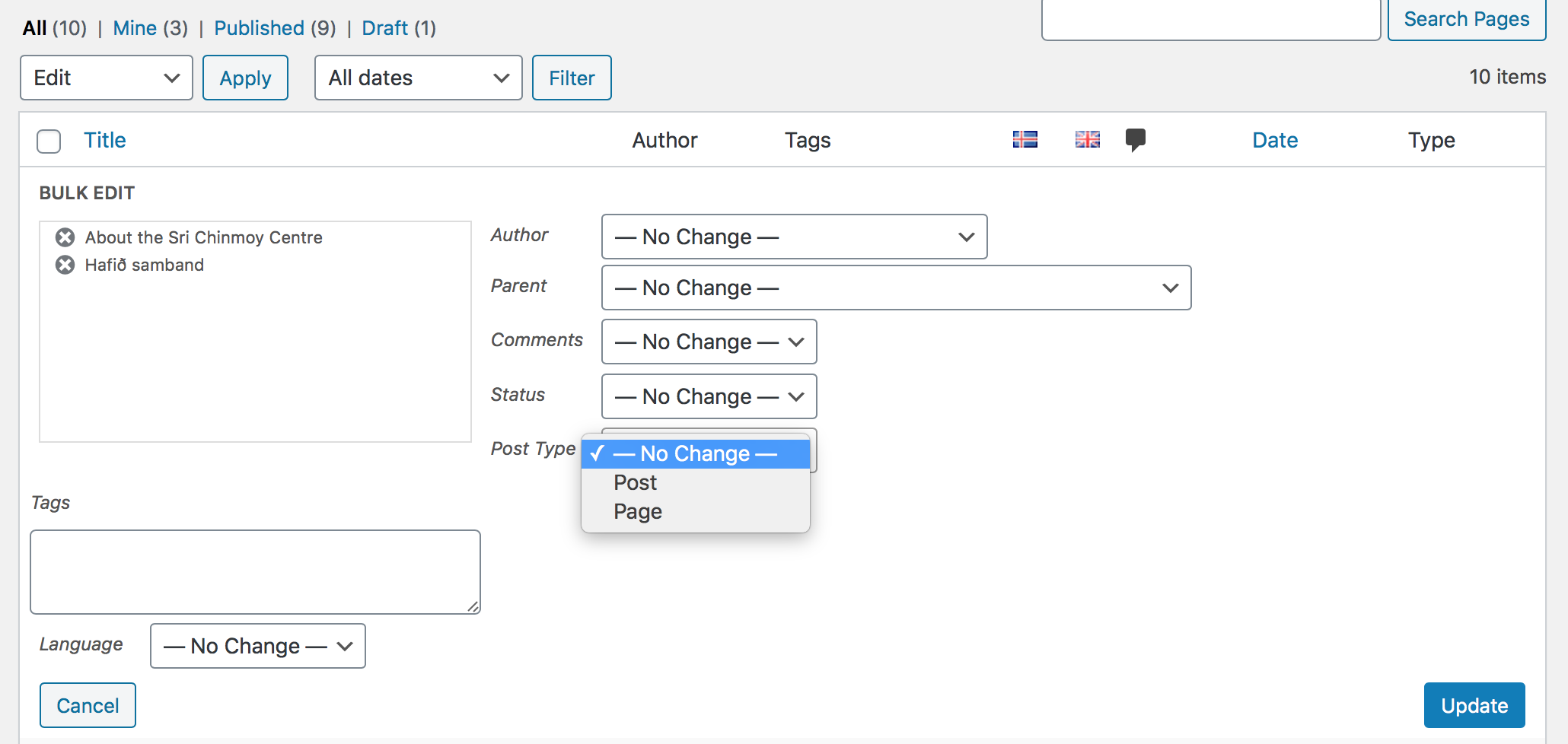 Add featured image and excerpts to posts
Posts look much nicer in the front page listing if they have a good featured image and a catchy sentence in the excerpt.
Create a top banner on the front page
There are 2 ways to do this:
Go to the page or post you would like people to visit once they reach your homepage (about your classes, maybe). Give it a nice excerpt, a featured image, and create a Tag named featured. This will automatically put this page in the banner. If there are 2 or more featured pages or posts, a slideshow is created
If there are no featured pages or posts, you can also go to Customise > Homepage – banner image and text and set front page title, description, image, and link to a page
Other things
Menu – if your menu looks funny after switching theme you might need to re-link the top menu. From the front page you can do this by going to Customize > Menu and reassigning your menu to the Primary menu area. Also, if your front page is a listing of posts, then we recommend removing the Articles link from the menu.
Footer. You can tidy up the widgets by going to Customize > Footer
Multilingual sites – go to Language > Settings and make sure media handling is deactivated. This will make sure you can see all images, regardless of language
Pages that used the Page Builder will have a lot of text in square brackets []. You will need to edit the page and remove all of this text
Top bar. If you would like to add tel no. to the top bar of all pages like Reading Meditation – you can go to customise- size identity – and there is a section called 'top bar'