On this page
Viewing recent entries:
Making the entry date visible – How to download – How to set email notification
Editing the form
Adding and editing fields – Phone fields – Enabling anti-spam
Note that the images may not be 100% up to date with what you are seeing on your site. We will also include some links to tutorials by the makers of the forms, as they are more likely to be up to date.
Viewing entries on Contact Forms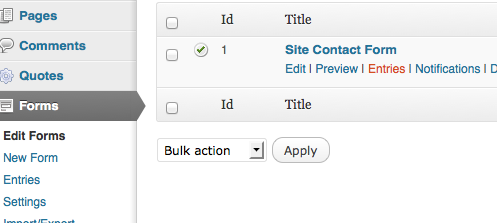 Click on Forms on left hand sidebar, then click on Entries. Here you can view and download entries from the site.
Adding Date to Contact Entries
One annoying glitch with forms is that you can't immediately see when the entry was submitted. To change this, go to the list of Entries for each form. On the top right, there is an edit button.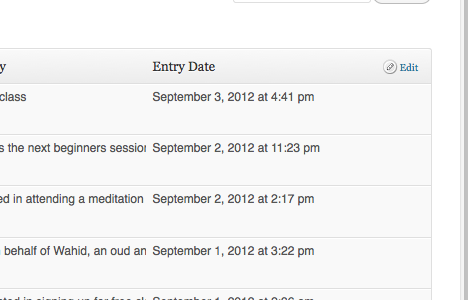 By selecting this, it will open up a list of inactive fields you can add into the form. Select Entry Date and drag across.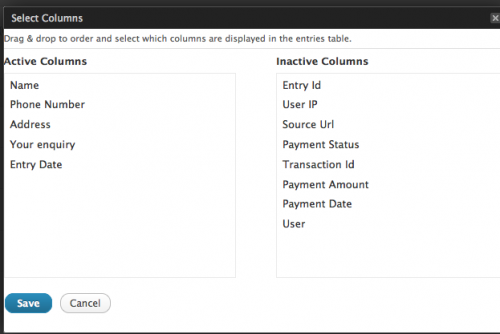 Downloading Entries
Tip: If you just want to print off names on the Entries secreen, you dont need to download. You can just highlight and copy (ctrl+C) all entries. Make sure to copy whole table. and paste into word document.
If you do want to download all entries, then go to Import/Export: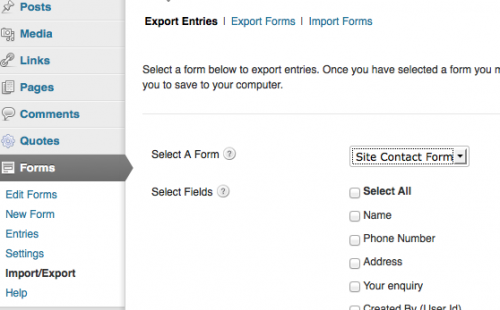 You can select the columns you wish to download, to save superfluous columns
To Receive Email Notification of new entries
Just go to forms – notifications, and select enable email notification to administrators. Note that you will only recieve notification that you have recieved a submission. You still have to visit the site to see what it is and who sent it.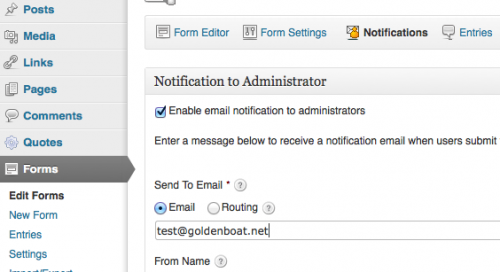 (ignore message about bottom, saying you need email field, you don't)
---
Editing your forms
Click on Edit Forms. You can add different types of form fields by dragging them from the right, such as textarea, text, line ect. To edit an existing field, just click edit in top right corner.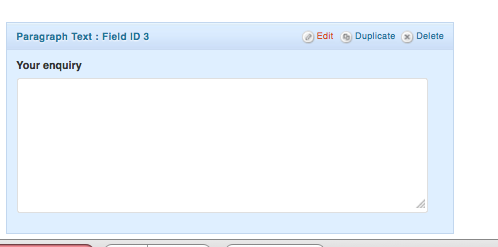 Phone number
Since phone number is in US form, its not recommended adding phone number directly unless you come from US, and even then it should come with note of explanation. For other countries its best to add a simple text line for phone.
Adding Spam Protection
There are 2 types of spam protection you can use to protect your contact form:
1. Honeypot: This will get rid of the vast majority of spam, without affecting visitors to your site. To enable it, edit the site contact form as shown above, and then Select Form Settings. Go to the Advanced tab and check the 'Enable anti-spam honeypot' box as shown below.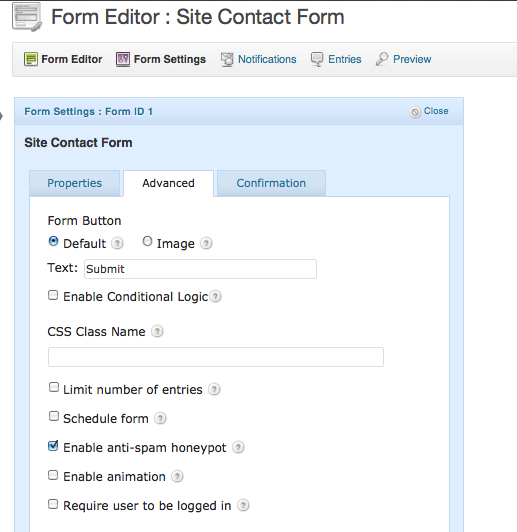 2. Captcha: If you still need additional protection, you can enable a captcha in the 'Advanced Fields' on the right hand side of the edit form page. You will need an API key, you can get on yourself with a Google account, or you can ask us.
You might want to add a line of explanation, since the form says something like 'Im not a robot' which may be confusing for visitors.