You can have your website in as many languages as you like. Even if you have only one language, and it is not English, you should set your default language in Settings > General. This will put the admin interface in your language, translates some bits of text on the site itself, and it also lets search engines know what language it is.
For multiple language sites, we use a plugin called Polylang, and the first step is to ask us to enable it.
Once it is enabled, you should then enable the languages you want by going to Settings > Languages
You can then translate pages and add a language switch to the top menu
For more detailed information, check the pages at getting started and also Frequently asked questions at the Polylang plugin site.
---
Add language switch to top menu
To display different translations in the menu, Go to Appearance > Menus.
If you are visiting this page for the first time, you might have to go to the 'Screen Layers' box on the top right and enable 'Language switcher'.
You will then see the language switcher in the list of options to add to the menu on the left hand side.
For the top menu, you will need to create a menu for each language, and add the language switcher to each language

You can decide whether to display language choice with flag or just words.
---
To translate a page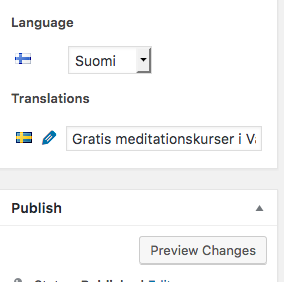 To translate a page, just edit the page as usual. In the top right, you will see option to translate (in this case, Swedish version)
Click on the edit button and it will take you to the other version of the page.