The two main issues with contact forms are:
The contact forms are situated on people's sites as follows:
Centre site: there is one contact form for every country by default. If you need additional forms, contact a site administrator who will create a new contact form (Tejvan, Nirbhasa) Just say, which URL you would like: e.g. /uk/contact/bristol.
Races site (new site, 2014) – people can now enter races using a contact form by selecting the appropriate option in the 'How to enter section'.
Note: This help page is for the Centre and Races sites. Click on the link for the help page for meditation sites contact form.
1.1 Viewing entries posted on the contact form
Login, go to the contact form, then click Results
You can view results individually on the 'Submissions' page by clicking on 'View' or view all results at once by clicking on 'Table'.
Screenshot of 'Submissions' page: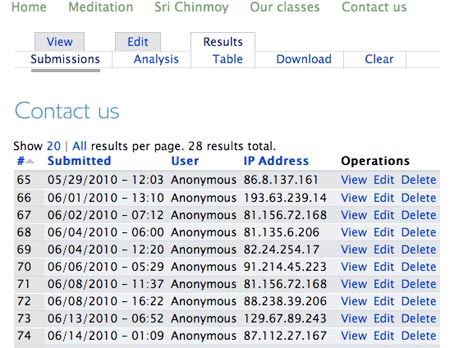 1.2. Table view
If you click on view as table you will see all entries in a table.
You could copy this table and paste it into a Word document or text file. You can then delete unnecessary columns like username or IP before printing it out
1.3. Downloading the form
You can also download whole contact form as Excel file – make sure to select the 'Excel' option as it isn't selected by default. If you don't have Excel you can download it as delimited text and open it in a simple text editor.
If downloading, you can also select which fields to include – this is good for leaving out useless entries like IP address
1.4. Clearing Contact Form
After downloading a contact form and printing out, we recommend clearing contact form – this way you don't have to remember the last person you contacted on the form.
This deletes all enquires and helps make it easier to manage. Of course, you should make sure you have a hard copy before clearing.
1.5 Notification
You can receive notifications every time a mail is sent – read more…
1.6. More Tips:
Make sure someone is responsible for checking contact form!
After receiving enquiry, it helps to send text message/phone to acknowledge receipt soon after the enquiry is received. You can then send more precise details nearer the time of the classes.
You can make contact form entries compulsory, eg compulsory phone number, read more…
Try to keep only as many fields as necessary – people may be less likely to fill it in if there are lots and lots of different fields.
If people 'spam' the contact form or write nasty messages there, please contact a site admin. We do have some protections to stop this happening.
On the Centre site: if you have a lot of submissions for one city, it might be worth having a specific contact form just for that city.
Modifying the contact form
2.1. Changing the greeting text and confirmation text
Login, visit the contact form on your site and Click on 'Edit'. You can change the greeting text on the contact form, and also the text that shows up when the visitor presses 'Submit'.
2.2. Email notifications
If you only receive contact requests infrequently, it can be a good idea to receive notifications every time one is received. Go to Webform » Email Notifications and set up a notification. To do this, place your address in the 'E-mail to address:' field (in Races site, this is under the Edit tab)
Note on Centre site: you will not recieve the actual message via email, only a notification that a contact message has been posted on the site. To view the message you need to visit the site.
If at any stage you wish to stop receiving notifications, just delete the notification.
2.3. Changing the form fields
You may need different fields for your form than the ones provided. To edit them go to the Form components button (this is under Webform in Centre site), just below the 'View' and 'Edit' buttons at the top of the page. You will then see a list of all the existing fields.
The Mandatory option is whether to make a field compulsory (e.g. make it compulsory to leave telephone number). Mandatory fields will have a little red star beside them on the form.
As the content of the contact requests are not sent in any email notifications, the Email option here is not used.
 You can edit each of the form components by pressing Edit, and translate the titles into your language.
2.4. Adding a new form component
Where it says New component name: Just add the title of the field (this is the title that site visitors will see)
Select the type of field: Text field is a single line, Text area is a bigger box – for addresses or messages. Then press add.
You can change the size of the text area/text field by filling in the width and height sections in the edit form.